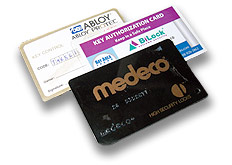 All of our high security products include a key control card used to obtain more keys in the future. Whether it's a laminated ID card or a credit-card style card, the card should be kept in a safe place as it will be needed to get more keys in the future. The importance of the card becomes clear on a day when you lend your house key to someone. You don't have to worry about that person visiting their local hardware store and making a copy.

Key Control for the Landlord
If you own rental property, install high security locks on the property and have the tenants sign a key release form (available at no charge from Bay Area Locks) that clearly states that they are responsible for the keys, and that there will be a charge to replace a lost key.

When the tenants move out, as long as you receive the originally issued number of keys you can have the peace of mind that they would not have been able to make copies of those keys (since you hold on to the authorization card).

Special note on Medeco Products
Our Medeco products include the authorization card to obtain additional keys in the future. Bay Area Locks uses what's called the Medeco "Gold" program. The Medeco patent for this program expired in 2005, so although it's technically possible for a locksmith to cut additional keys without the authorization card, most, if not all locksmiths still adhere to the strict key control policy set by Medeco for the Gold program. Since the patent expired for the Gold program in 2005, Medeco created the now current generation "M3" System that uses different keys and an additional locking mechanism called the slider. The M3 System is patent protected until 2021. We do offer the Medeco M3 system as an option, but the products and additional keys (in the future) are special order and take additional time. There is an additional charge for the M3 system. See the product detail pages for pricing information. Note that all Medeco programs, including the Gold program, are safe from the bump key.

Moving Out of the Area
If you move out of town, take your high security locks with you. You will be able to obtain additional keys at a locksmiths nationwide for all locks purchased from Bay Area Locks. After moving, call the local locksmiths and ask if they cut Medeco or Abloy Protec brand keys (whichever brand you selected). Upon presenting your authorization card, your driver's license or other form of identification, signing the signature form, and presenting at least one original key, you will be able to obtain more keys in the future.
---