| | | |
| --- | --- | --- |
| | Categories | |
| | | |
| --- | --- | --- |
| | Manufacturers | |
| | | |
| --- | --- | --- |
| | Company Information | |
| | | |
| --- | --- | --- |
| | Information | |
Sizing Information

Backset Information
It is important to measure the proper backset when ordering deadbolts and other products. Most of the high security products do not have adjustable backsets (which are common in the hardware-store varieties). Generally, for durability the backsets are fixed at either 2-3/8" or 2-3/4" to fit most common doors. To measure the backset, it is the distance from the edge of the door to the center of the hole in the door.


| | | |
| --- | --- | --- |
| | | I have created a PDF template that you can download and print on your printer. This guide will help you determine your current backset. Ensure that when you print the PDF, do not resize it, instead print it at 100% if possible. Download the file by clicking here and then print it out. |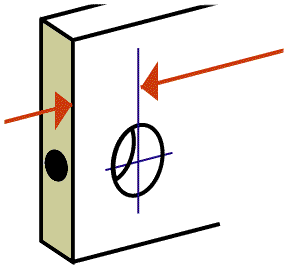 If the door does not have an existing hole for a deadbolt, you should measure the knobset and match it's backset length when installing a deadbolt in the door. If you are interested in door wrap reinforcers, ensure the two holes in the door are either 4" or 6" apart from each other. The door wraps are available in those two offset sizes.

Door Handing
Doors are either left handed or right handed. To determine which handing your door is, stand outside the house and face the door. The side the hinges are on is the handing of the door. This becomes important when ordering knobsets, because if the knobset is not adjusted for the correct handing the lock and key will be upside down.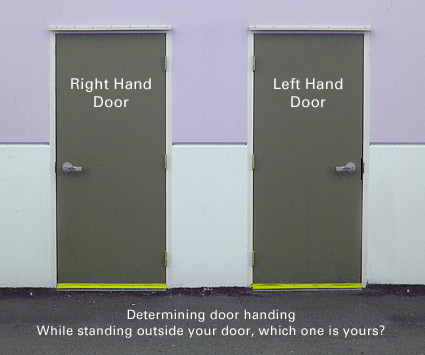 Door Thickness
Doors are generally 1-3/8" or 1-3/4" thick. Most exterior doors are 1-3/4" while interior doors are 1-3/8" thick. All the locks fit both sizes, with the one exception of the Medeco® Captive Thumbturn model. It requires a 1-3/4" thick door. If your door is thicker than 1-3/4" then please inquire about a small kit to ensure the deadbolt or knob/lever will fit.

Door Frame Reinforcements
All of our deadbolts, knobsets, and leversets install in a standard 2-1/8" hole. The hole in the edge of the door is always 1" in diameter. It is also highly recommended that you also completely install the reinforced strike plate on the door frame. If you install a high security lock on a door and do not replace the existing strike plate, it would be very easy for someone to simply kick the door open, breaking the fragile strike plate with short screws. The reinforced strikes include 2" or 3" screws that penetrate the door frame and continue into the studs of the wall. This increases the strength many times.