| | | |
| --- | --- | --- |
| | Categories | |
| | | |
| --- | --- | --- |
| | Manufacturers | |
| | | |
| --- | --- | --- |
| | Company Information | |
| | | |
| --- | --- | --- |
| | Information | |
Customer Testimonial

"Dennis has been very wonderful and helpful to us. Although he is not our local locksmith, he was the only locksmith that was extremely helpful with us when we would like to upgrade our Kwikset deadbolt. I have visited and called 4 local "Authorized" Medeco locksmiths in my area, and all 4 told me that our deadbolt cannot be upgraded since it is a Kwikset and advised us to purchase a brand new Medeco deadbolt. They were not familiar with this product and only Dennis was able to help me. I sent in the picture of my deadbolt and he advised me on the right product and even give me a really good price on it. People, this is the right person if you want to purchase Medeco stuff. I just wish you are in Southern California."


—Memie
Los Angeles, CA
View More...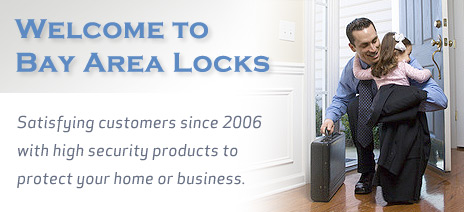 ---




Bay Area Locks specializes in high security locks that are not vulnerable to the infamous "bump key." We are a factory authorized dealer for Medeco and Abloy Protec high security products. We have sold hundreds of locks nationwide to customers upgrading their deadbolts and other locks to safe and secure, high quality products.



Announcements and Updates






There are several television segments featuring Dennis McEntire of Bay Area Locks. To view any of them, click on this link or on any of the logos above.

---


With the introduction of Protec 2, Abloy's newest line of security, all of the Abloy products now offer a choice of original Protec or Protec 2. Which one to choose? It's simple -- if you are a new customer be sure to select Protec 2, but if you are an existing customer looking to match up locks with your existing system, then choose Original Protec. The systems are NOT compatible with each other. The primary difference is the key patent (since it's a new product and patent). You can read more on the Bay Area Locks blog located here.



If you are a current Abloy deadbolt customer and would like to upgrade your locks to Protec 2, we have an option for you. The Replacement Abloy Deadbolt Cylinder is an exact factory manufactured cylinder that will replace your existing cylinder and upgrade it to Protec 2.


---