| | | |
| --- | --- | --- |
| | Categories | |
| | | |
| --- | --- | --- |
| | Manufacturers | |
| | | |
| --- | --- | --- |
| | Company Information | |
| | | |
| --- | --- | --- |
| | Information | |
Customer Testimonial

"Dennis did an absolutely outstanding job installing new locks at my home and making sure I made an informed decision about what brand and type would best suit my needs. In the work he did at my home, Dennis demonstrated a passion for helping his customers and for providing them with the very best service and security-- he's a true professional."


—Dan
San Francisco, CA
View More...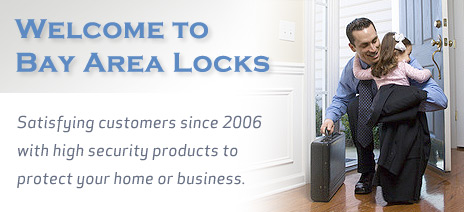 ---




Bay Area Locks specializes in high security locks that are not vulnerable to the infamous "bump key." We are a factory authorized dealer for Medeco and Abloy Protec high security products. We have sold hundreds of locks nationwide to customers upgrading their deadbolts and other locks to safe and secure, high quality products.



Announcements and Updates






There are several television segments featuring Dennis McEntire of Bay Area Locks. To view any of them, click on this link or on any of the logos above.

---


With the introduction of Protec 2, Abloy's newest line of security, all of the Abloy products now offer a choice of original Protec or Protec 2. Which one to choose? It's simple -- if you are a new customer be sure to select Protec 2, but if you are an existing customer looking to match up locks with your existing system, then choose Original Protec. The systems are NOT compatible with each other. The primary difference is the key patent (since it's a new product and patent). You can read more on the Bay Area Locks blog located here.



If you are a current Abloy deadbolt customer and would like to upgrade your locks to Protec 2, we have an option for you. The Replacement Abloy Deadbolt Cylinder is an exact factory manufactured cylinder that will replace your existing cylinder and upgrade it to Protec 2.


---



The Bay Area Locks Security Blog
I have been working hard on a new blog detailing my own experiences with the bump key, security, and locksmith work that I have experienced. This blog will contain interesting articles and photos of locksmith and security information I come across, and will answer many questions that have frequently come up with the products and services I offer. The blog is under development and will be available soon when I get all the bugs worked out of it. You can visit the blog at this address: http://news.bayarealocks.com

---


Discontinued Items
There is a new page of information on products that Bay Area Locks no longer carries. You can view the page by clicking here.

---

Baldwin Lock Upgrades
I have been receiving quite a few inquiries about upgrading Baldwin door locks. It turns out that this is usually an easy process if you know which product to order. I have prepared a quick instruction sheet to help you determine which lock cylinder you need to upgrade your Baldwin to high security. Click here to see this page.

---


---